Mexican transfer news and rumors LIVE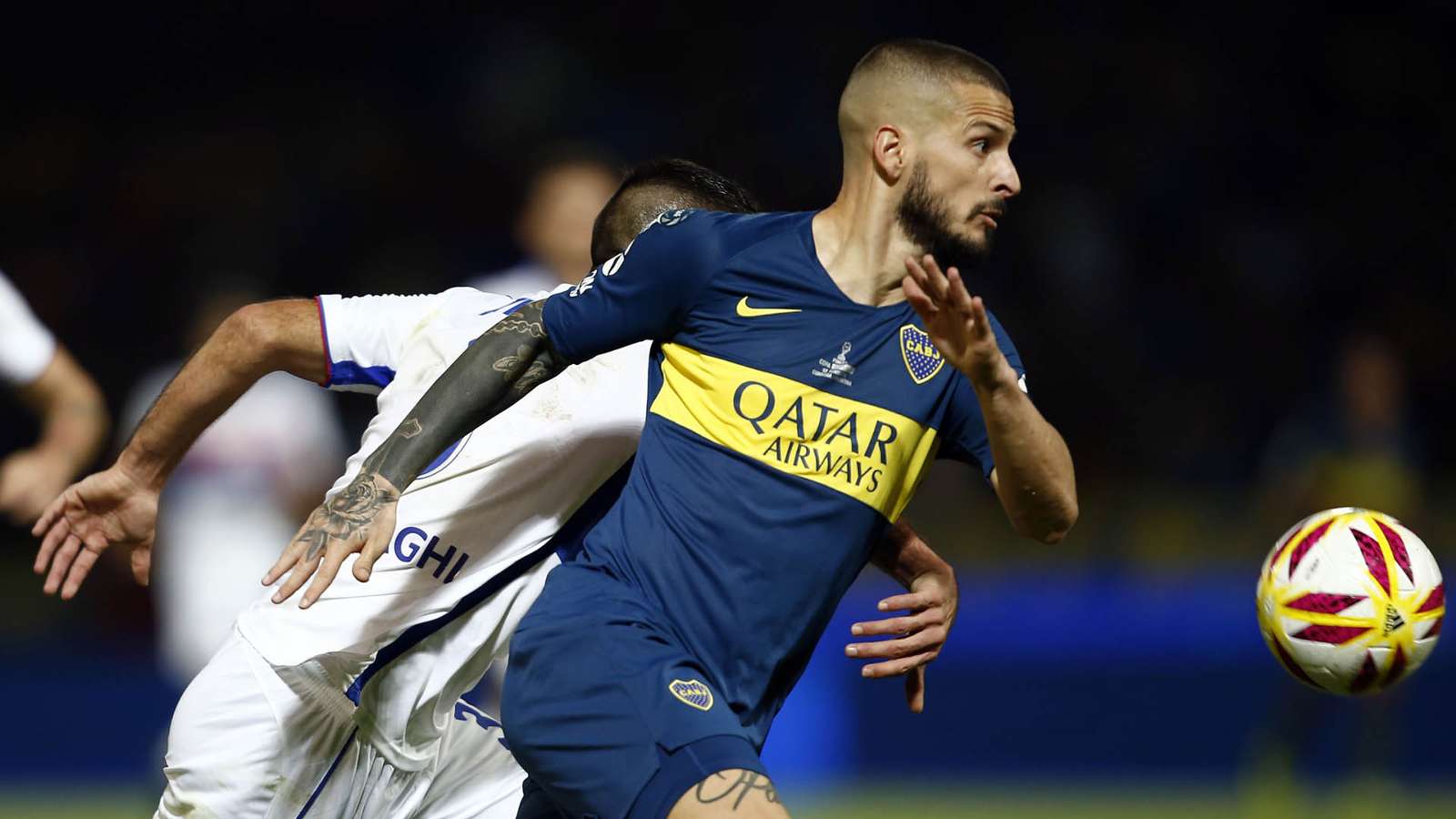 ---
Rayados interested in Benedetto
---
Monterrey manager Diego Alonso and the club's directors are looking to bring Boca Juniors forward Dario Benedetto back to Liga MX, according to Multimedios .
After Sunday's Copa de Superliga match against Tigre, "Pipa" said he may have played his last match for the club. The former Tijuana and America forward had plenty of success in Liga MX but also has interest from MLS clubs.
---
Wolves inquire about PSV, Ajax target Alvarez
---
Wolves have made contact with Club America's sporting department to inquire about Edson Alvarez's availabilty, according to  MedioTiempo .
While he recently signed a contract extension, it's widely believed he did so to aid America in getting the best value when selling the defender/midfielder.
Both Ajax and PSV have spoken America about Alvarez as well, according to De Telegraaf . PSV is hoping to move quickly, but Ajax could more easily pay Las Aguilas' asking price of €10 million (£9m/$11m). That price could go up with interest already recorded from the Netherlands, Serie A (Inter, Atalanta and Fiorentina reportedly are tracking Alvarez) and the Premier League club potentially entering the mix.
---
Podolski offered to Rayados
---
An agent has made contact with Rayados to offer them the services of Germany legend Lukas Podolski, according to  Cancha .
The sides could meet in the next few days to get a better feel of what each side is after. Monterrey may be intrigued by the idea of snagging the former Bayern and Arsenal forward, and current club Vissel Kobe may be willing to sell now with his current contract set to expire in January 2020 and this providing a last chance for the Japanese club to get a transfer fee.
---
Pumas begin rebuild with Liga MX veterans
---
Pumas are set to sign Juan Pablo Vigon and Clifford Aboagye froAlm Atlas and may also bring in forward Martin Barragan from Necaxa, according to  MedioTiempo .
The Mexico City club is looking to return to former glories with new manager Michel and new sporting director Jesus Ramirez leading the rebuild. 
---
Ochoa with options in Spain, Mexico
---
Mexico national team goalkeeper Guillermo Ochoa has interest from Valencia and Getafe, according to  MedioTiempo .
Ochoa also has an option to return to Liga MX in Atlas, according to ESPN Mexico . The Rojinegros' new ownership group is looking to make a splash and has a good relationship with the current Standard Liege shot-stopper. However, a good deal of convincing is needed for the 33-year-old to leave Europe. In addition to the La Liga interest, he also was reportedly on Porto's list of potential Iker Casillas replacements.
---
Aquino turned down national team chance
---
Tigres winger Javier Aquino is another name on an increasingly long list of players no longer interested in representing El Tri, according to  Fox Deportes .
After Hirving Lozano's injury, Mexico coach Tata Martino reportedly hoped to include the 29-year-old in his Gold Cup squad but was rebuffed.
---
Liga MX teams fighting Premier League clubs for Djaniny
---
Former Liga MX top scorer Djaniny has interest from Premier League teams in addition to clubs in Mexico, according to  A Bola .
The Cape Verde international has continued scoring goals since leaving Mexico, with 20 league goals for Al Ahli in Saudi Arabia. Cruz Azul is interested in bringing him back to reunite with manager Pedro Caixinha, but La Maquina reportedly must fend off West Ham with Everton and Wolves also tracking the 28-year-old.
---
Santos, America talking about forward swap
---
Santos Laguna and Club America are talking about swapping forwards this summer, according to MedioTiempo .
The deal would see Oribe Peralta return to Torreon to finish his career there while Los Guerreros would send Julio Furch to Las Aguilas. Furch scored six goals in the previous tournament and will turn 30 this summer.
---
Cruz Azul looking to buy from abroad
---
Cruz Azul is planning to be active this summer and has three players based abroad high on its wish list, according to  Marca Claro .
Peru international midfielder Renato Tapia, who is signed with Feyenoord but spent last season on loan with Willem II, Cerro Porteno defender Juan Escobar and former Santos Laguna forward Djaniny.
Cruz Azul manager Pedro Caixinha coached Djaniny, who won the goalscoring crown with Santos and is open to a return to Mexico from his current club in Saudi Arabia. 
Other names mentioned recently are Seattle Sounders midfielder Nicolas Lodeiro and Puebla forward Lucas Cavallini (see below).
---
Cavallini has suitors in MLS, Spain
---
Puebla has offers on the table from a number of teams for forward Lucas Cavallini, according to  Record .
Cruz Azul is making a strong push for the Canadian international, but he also has suitors in MLS and Spain. The Canada international forward has scored 23 Liga MX goals since arriving in the summer of 2017.
---
America expecting Uribe bid
---
America is expecting a bid from Sporting for midfielder Mateus Uribe, according to  ESPN.
Las Aguilas already declined a $5 million offer for Uribe from Boca Juniors of his native Argentina. Sporting likely would double that offer.
---
Alanis with interest in North America
---
Oswaldo Alanis is in talks to return to Chivas, according to  MedioTiempo .
The club, which signs only Mexicans, also has Santos Laguna's Gerardo Arteaga and relegated Feirense center back Antonio Briseno on its list.
San Jose is also a potential destination for Alanis, according to Earthquakes show Black and Azul.  Though Real Oviedo may attempt to keep the left-footed center back, Alanis' former manager Matias Almeyda also has an eye on the defender.
---
Rayados players with European chance
---
Monterrey wouldn't stop Rodolfo Pizarro or Carlos Rodriguez from moving to Europe this summer, according to sporting director Duilio Davino.
A pair of scouts working with Manchester United were in attendance for Monterrey's playoff match against Necaxa, according to  Multimedios Deportes . They later were spotted talking to the Rodriguez's agent. 
Rayados attacker Rodolfo Pizarro also has been the subject of European interest in the past weeks. Genoa, Parma and Udinese reportedly are interested in Serie A, while La Liga clubs also have been keeping an eye on the former Chivas playmaker.
---
Betis wants Guardado extension
---
Andres Guardado's agent is set to travel to Seville to work on a contract extension with Real Betis, according to  ABC Sevilla
The 32-year-old's current deal would keep him in La Liga through summer of 2020. The player has been targeted by Liga MX and MLS teams in the past and manager Quique Setien's departure could make it more appealing for him to return to North America. Still, Real Betis are seeking a deal that would keep him with the club in 2020-21 and have an option for an additional season .
---
Germany or the Netherlands options for Guzman
---
Victor Guzman is interested in a move to Europe, with clubs in Germany and the Netherlands potential destinations, according to the player's agent, Matias Bunge .
The Pachuca midifelder was linked with a move abroad in previous transfer windows and could take the leap this summer. The agent also represents Diego Reyes and said reports linking the defender to Tigres are premature with the sides yet to speak .
---
Gio asking for big money to play in Liga MX
---
Giovani dos Santos is looking to become one of Liga MX's highest-paid players, according to Univision Deportes .
Currently without a club and training in the Mexican federation's training center , the former LA Galaxy attacker is looking to make $4.5 million a year. His father is in advanced talks with Cruz Azul, which is the favorite to sign the 29-year-old, though Monterrey and America also are potential landing spots .  
---
Napoli and Lozano reach agreement
---
Napoli is offering Hirving Lozano a five-year contract after reaching an agreement to buy the El Tri winger, according to   Corriere dello Sport .
Lozano's agent, Mina  Riaola , met with Napoli manager Carlo Ancelotti and Napoli president Aurelio De Laurentiis earlier this month, with the club agreeing to pay 40 million euros to PSV.
In the winter, Il Mattino  reported Riaola and the Serie A side had an agreement but Napoli wasn't yet willing to meet PSV's $40 million asking price .  Gazzetta dello Sport  reported   Manchester United stepped up its interest and was working with Rialoa, spurring Napoli to attempt to lock things down before another club swoops in to sign him.
The 23- year-old PSV player has stood out since moving abroad from Pachuca and garnered attention from a number of top clubs .
---
Herrera heading to Atletico
---
Hector Herrera has reached an agreement to join Atletico Madrid and is set to sign a five-year deal with the club, according to Marca .
Last month, Portuguese newspaper  O Jogo reported Herrera had been convinced of Diego Simeone's vision and was ready to join Los Colchoneros.  The Mexico midfielder is set to spurn Inter after the Italian club's long courtship, along with Roma and Milan opting instead to play in La Liga. Herrera's Porto contract expires this summer, allowing him to move on a free.